St. Francis House Food Pantry offers a drive-thru or walk-up service.
Download a map of the food pantry site.

CSS remains committed to serving our community, and the health of our clients, volunteers, and staff is our top priority. Learn more by reading our response to COVID-19.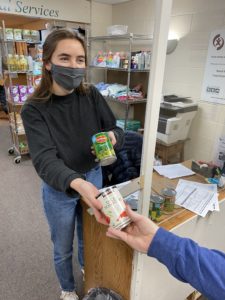 Looking for an Anchorage food bank? St. Francis House Food Pantry is one of the largest food pantries in the state of Alaska, providing 500 households per week with an emergency supply of food, and at no cost to the client. Everyone is welcome at St. Francis House Food Pantry. This institution is an equal opportunity provider.
The food distributed through St. Francis House Food Pantry comes from The Emergency Food Assistance Program (TEFAP), Food Bank of Alaska, and many generous individuals and local grocery stores.
Food boxes contain various items from the following categories:
Fresh produce
Breakfast foods
Pasta/rice
Dry and canned proteins
Frozen meats
Canned vegetables and fruit
Breads & Sweets
Canned soups and ready-made meals
TEFAP commodities
Open 9:00 a.m. – 1:00 p.m. on Mondays – Thursdays and 4:00 – 5:30 p.m. on the 4th Wednesday of the month
Closed on Fridays
If you need additional food support, click here for a directory of all currently open pantries.
Additional Resources
St. Francis House Food Pantry also distributes vouchers for the Senior Farmers' Market Nutrition Program and items for the Summer Food Service Program that serves children 18 years of age and younger.
Help for seniors: Saint Francis House Food Pantry also distributes senior nutrition boxes for the Commodity Supplemental Food Program (CSFP). CSFP is a program that provides extra assistance to clients who are age 60+, which requires a separate application.
Saint Francis House Application
CSFP Program Application
How St. Francis House Helps
In FY 2021, St. Francis House served about 1,180 households per month. 10,311 clients brought more than 690,000 pounds of food home to their families.
Find out more about the impact made by St. Francis House Food Pantry every day. If you're interested in getting involved, we welcome volunteers and offer the option to donate directly to the food pantry or go shopping for items on our wish list.
Contact Us
Location: 3710 E. 20th Avenue, Anchorage, AK 99508
Phone: 907-222-7323
Claire Lubke, Program Director clubke@cssalaska.org
For more information about the food pantry network, check out the Food Bank of Alaska.
Additional Resources
Here are other partner agency programs you may want to check out: