In partnership with Alaska Native Tribal Health Consortium, Alaska Regional Hospital, Providence Health & Services Alaska, Southcentral Foundation, Anchorage Neighborhood Health Center, and the Municipality of Anchorage, Brother Francis Shelter provides its guests with a number of services and supportive programs to help them transition out of homelessness. These programs highlight the medical care at the shelter.
Medical Respite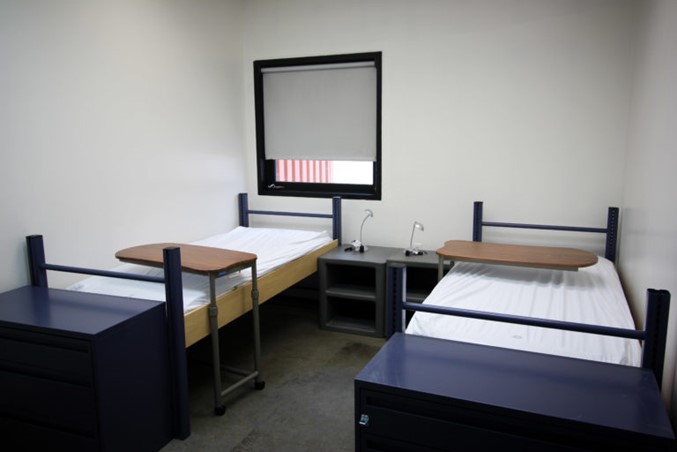 The Medical Respite program provides a safe space for the self-care and recuperation of patients discharged from medical facilities in Anchorage. The Medical Respite space provides guests with 24-hour access to a furnished semi-private room, 3 meals a day, a common area with a television, kitchenette, and laundry. Case Managers assist guests with transportation for follow-up appointments and help guests meet their diverse healthcare goals. While the Medical Respite Program does not provide direct medical care, in-house treatment can be coordinated with our healthcare partners. The BFS Medical Respite Program improves patient health outcomes, reduces hospitalizations, and saves community resources.
The Caring Clinic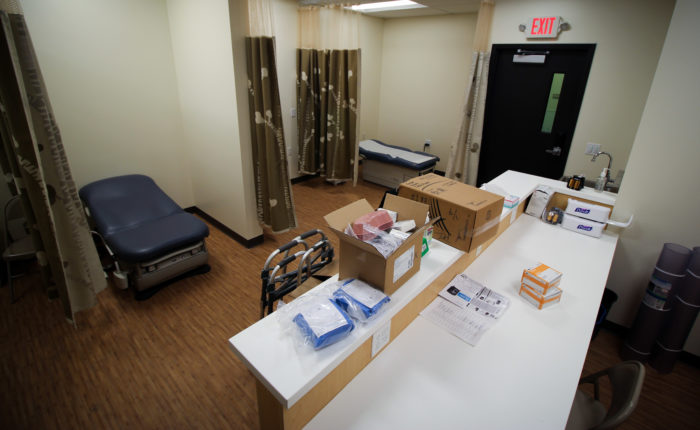 The BFS Caring Clinic, staffed and supported by Southcentral Foundation, helps to meet the medical needs of guests at Brother Francis Shelter and the Anchorage Community at large. The BFS Caring Clinic is open Monday through Friday, staffed with a Physician's Assistant and multiple support staff. Clinic staff meet chronic and acute medical needs such as wound care, infections, bump & bruises, and illness. Staff can also fill prescriptions on site or have medication delivered directly to BFS. While most of these healthcare issues can be treated in-house, clinic staff can also connect patients with follow-up care, specialists, or emergency services when necessary. By providing preventative and acute care, the BFS Caring Clinic reduces calls for emergency services, emergency room visits, and brings healthcare directly to a group of people who have many barriers to accessing the healthcare system.
Transportation
Brother Francis Shelter provides transportation for guests to and from local hospitals and medical specialists so we can utilize Anchorage's existing medical resources and reduce costly Emergency Medical Service (EMS) calls. In the first year of providing transportation, Brother Francis Shelter spent $50,000 on cab fares for guests to and from hospitals and medical appointments, saving the city $500,000 in prevented EMS calls.
Healthcare and Homelessness Partnership at Brother Francis Shelter
Catholic Social Services is honored to be a part of the groundbreaking partnership with major Anchorage hospitals and community and city partners who came together to work on ending homelessness. The Medical Respite and Caring Clinic programs at Brother Francis Shelter, made possible through this partnership, addresses healthcare among those in great need and the rising service costs for all Alaskans.
The impact of the Healthcare and Homelessness Partnership has been incredible. By offering preventative care and recovery support to people experiencing homelessness, Brother Francis Shelter has drastically reduced the number of emergency service calls, saving the city of Anchorage roughly $2 million in its first year.
Healthcare & Homelessness Partnership:
Catholic Social Services' Brother Francis Shelter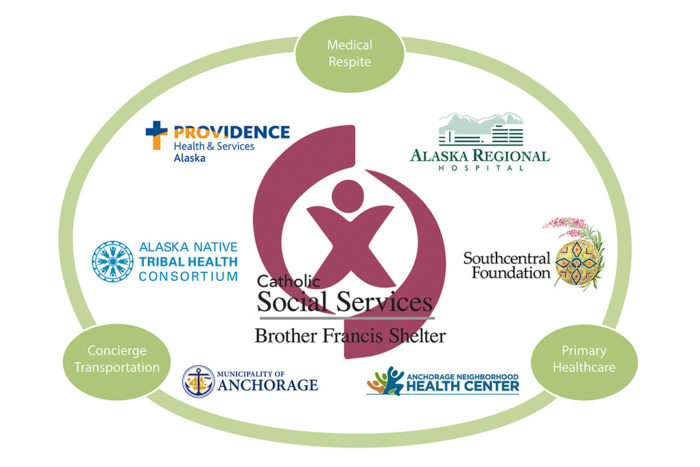 This project is possible thanks to the support of Alaskans like you. This partnership would not have come to fruition without a generous community that prioritizes addressing homelessness in Alaska.