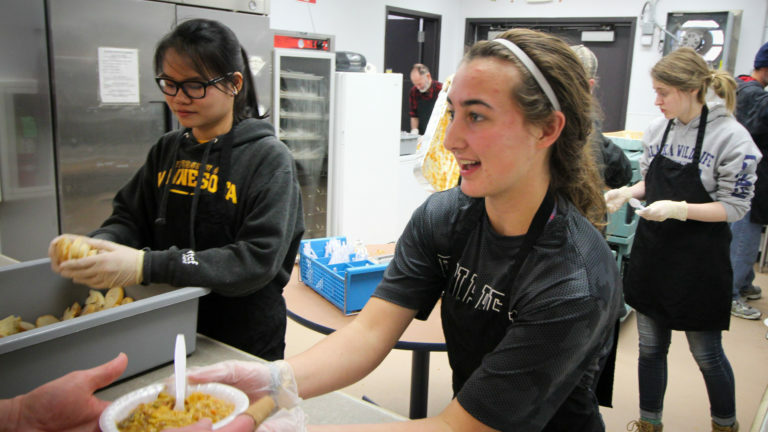 We Need Your Help!
You can support Brother Francis Shelter and help provide care and services to our guests. Consider giving today by making a financial contribution, providing items on our Wishlist, and volunteering your time.
DONATE
Make a financial contribution online or by mail.
Are you looking for a mailing address to send your financial Brother Francis Shelter donation to?
Please send to:
Catholic Social Services
4600 Debarr Road, Suite 201
Anchorage, AK 99508
Please specify that your donation is intended for Brother Francis Shelter.
GIVE FROM OUR WISHLIST
Brother Francis Shelter accepts donations of new or lightly used items at the CSS Main Center at 3710 East 20th Avenue between 1PM-4PM, Monday-Thursday, and 9AM-4PM on Friday. Shop our Wishlist to provide the most in-need items.
Brother Francis House Wishlist
VOLUNTEER
Ongoing volunteer needs at Brother Francis Shelter include assisting with the dinner service, helping guests shop in the clothing room, working in the computer lab and providing medical care in our Caring Clinic.
During the holiday season, we're always in need of volunteers to help make this time of year special for our guests. Opportunities include:
Thanksgiving dinner service
Christmas Eve Mass dessert service
Christmas dinner service
ADDITIONAL WAYS TO SUPPORT
Become an Ambassador
Connect your church, school, workplace, family or any other group with Brother Francis Shelter. Help convey the shelter's current needs and opportunities to help those in need.
We'll provide you with the resources you need, and keep you updated with quarterly emails, so you can energize your community.
Collection Drives: Arrange collecting special items in need at the shelter to be distributed to the guests. (For example: razors, tube socks, warm gloves, shampoo & conditioner, Band-Aids, toilet paper, adult absorbent underwear; Q-tips, lotion, alcohol-free hand sanitizer, underwear, hand warmers)
Invite a Speaker to Visit
Homelessness is a complex condition, and we strive to educate the community about what the causes and cures of homelessness are. Want to learn what it's like to live on the streets? Want to hear how Brother Francis Shelter provides new hope? We can come to your school, church, service organization meeting or anyplace in which your group wants more information about the services Brother Francis shelter provides. Contact Brother Francis Shelter Jennifer Stoehr to set up a presentation.
Thank you!