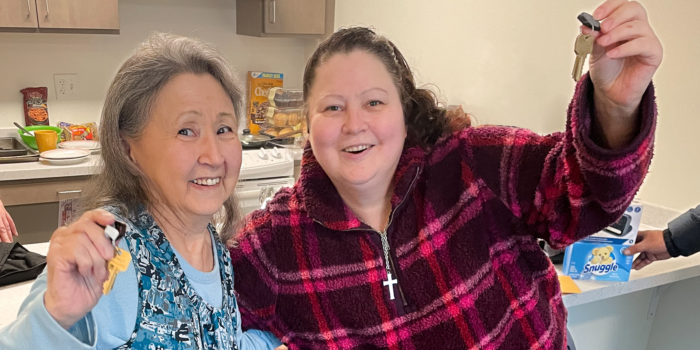 CSS operates 8 multi-faceted programs, including 3 emergency shelters, a food pantry, housing case management service, services for individuals with disabilities, a refugee resettlement and immigration program, and more

BFS provides safe shelter, three meals a day, warm showers, and medical care, and a safe place to recover from acute illness or injury in the Medical Respite program

SFH is one of the largest food pantries in Alaska, providing 924 families per month with an emergency supply of food at no cost to the client

RAIS provides a bridge for refugees from their former lives to their new ones in the U.S. During FY22, RAIS quickly adjusted to meet the needs of arrivals fleeing the humanitarian crisis in Afghanistan and the war in Ukraine

Homeless Family Services (HFS) provides case management to veterans, individuals, and families experiencing homelessness. During FY22, HFS launched the Intensive Case Management team, housing 310 households in Alaska

Clare House provides emergency shelter, case management, and progressive housing to participants. Each day of the year, volunteers provided home-cooked meals for the guests at Clare House, totaling 64,026 meals in FY22

Complex Care provides support for medically fragile individuals experiencing homelessness and offers safe shelter, case management, and more. Complex Care addresses homelessness among our elderly and medically fragile neighbors.

Family Disability Services (FDS) provides services for both children and adults with developmental disabilities, as well as offering a support system for their families.

SFS provides holistic support to families with a variety of needs through classes, coaching, and skill-building taught through the Strengthening Families framework. SFS uses a two-generational approach with the aim of ending the cycle of poverty and homlelessness.
Beyond ballet: music, memories, and motivation at The Nutcracker

This past December, a group of guests at Brother Francis Shelter had the opportunity to attend The Nutcracker at Atwood Hall – an event which left a lasting impression on many of those who attended. One guest in particular saw the importance of the event for his fellow guests from the very beginning.

Read about LaVont's experience at the ballet

Thank you for making this year's Grow Local, Give Local campaign a success

Every June, Refugee Assistance & Immigration Services (RAIS) teams up with St. Francis House Food Pantry for our annual Grow Local, Give Local campaign. During Grow Local, Give Local, donors like you support the livelihoods of refugee farmers in the Fresh International Gardens (FIG) co-op by purchasing produce they've grown and donating it directly to St. Francis House, where it is distributed to 500 households a week.

Read about Grow Local, Give Local

From Refugees to Restauranteurs: Naw Naw and Lu at The Ramen House

A decade ago, Na Na and Leu arrived in Anchorage from Burma, unfamiliar with the language, the culture, or the cold harsh winters. Ten years later, they're experienced restaurant owners giving back to our community, raising their family together.

Read the story behind the creation of The Ramen House