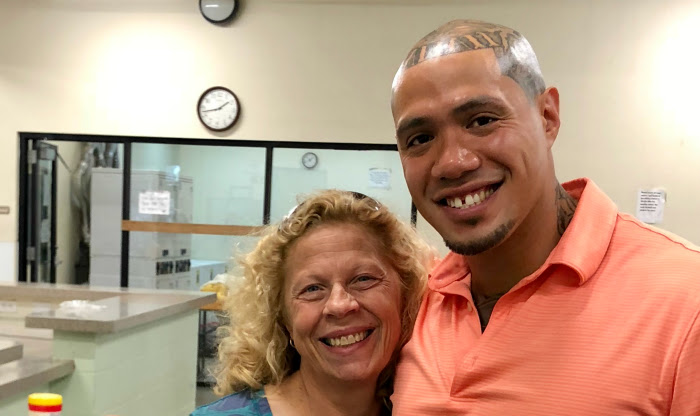 On August 31, I had the opportunity to meet Jierum, an amazing volunteer and a client at Anchorage Community Mental Health Services. Jierum was at Brother Francis Shelter, giving haircuts to people in the shelter.  He was with his friend, Ret. Judge Stephanie Rhoades, who is a Board Member of Anchorage Community Mental Health.  They come down every week to provide haircuts and connect with people.  It is such an incredible service to our guests at Brother Francis Shelter.  The feeling of having a haircut reminds me of being ready for the world.  Based on the looks of the faces of the people I met who had received a trim, that's how they felt too.
Jierum has faced challenges in his life and, thanks to Anchorage Community Mental Health Services, is receiving great care and really making a positive impact on our community.  Talking to Ret. Judge Rhoades, I learned that so many people who have received coordinated, strong care for their mental health challenges are now thriving in Anchorage.  We know many at Brother Francis Shelter who have faced obstacles similar to Jierum — growing up in poverty, experiencing trauma, transitioning to adulthood, and struggling with a behavioral health diagnosis that feels impossible to overcome.  It can feel hopeless and, for some, so difficult that it leads to homelessness.
By partnering across the community, though, and reaching our arms wide, we can make a difference.  At Catholic Social Services, we have worked to increase our partnerships to better serve our guests and connect them with needed services.  Partnerships with Southcentral Foundation, Providence Hospital, Alaska Regional Hospital, the Alaska Native Tribal Health Consortium, Cook Inlet Housing, Weidner Properties, and so many more are breaking down barriers and silos and supporting lasting change and permanent stability.  At Catholic Social Services, permanent stability for our clients is our goal.  With agencies like Anchorage Community Health, which provides treatment and services for people with mental health illness and challenges, our goal becomes more achievable.
Jierum is the living proof of that.  He has experienced homelessness and overcome challenges.  Now he spends his time helping others who face difficulties take a step towards lasting change and stability.
We are grateful to Ret. Judge Rhoades, Jierum, all of our volunteers, and the people of Anchorage.  They are working every day to support others in our community and making Anchorage a brighter place.