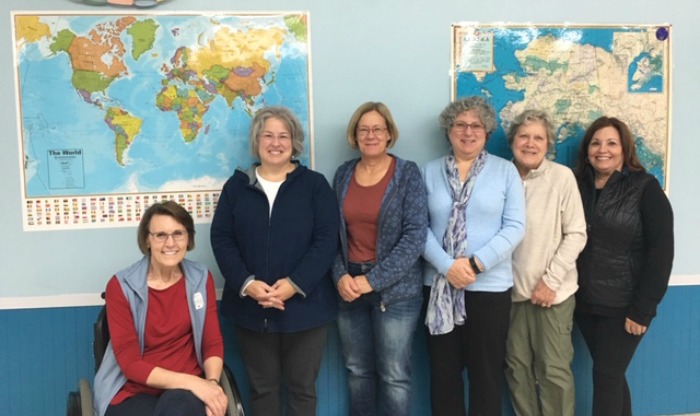 Five women sat on folding chairs in a circle at the Welcome Center, a building dedicated to our Refugee Assistance & Immigration Services (RAIS) program.  They chatted and laughed loudly, clearly good friends.
Those gathered were Meg, Diane, Shirley, Ingrid, and Peggy – each volunteer teachers for newly resettled refugees.  Their classes focus on the English language, American culture, and Alaska basics, like how to use our libraries and bus system, behave around moose, and take cover in an earthquake.  Altogether, there are seven teachers, but one of them, Cindy, was in class with refugees and the other, Kay, was traveling.  These women have devoted anywhere from two years to more than six years to RAIS Welcome Center.  Would you like to volunteer for RAIS too?
In that time, they have worked to produce the curriculum, keeping it on Google Docs as an evolving set of coursework.  They pair up and alternate what days they teach – Mondays, Wednesdays, and Fridays – and they always try to pick up where the previous teachers left off.
Meg teaches with Diane on Fridays.  "Every class, we start with 'Today is,' 'Yesterday was,' and 'Tomorrow will be,'" Meg said.  But her favorite thing to teach is counting money.  "They often think the size of the coin reflects its value.  Fifteen dimes are more than 97 pennies."  Everyone laughed, jumping in to share their unique culture-shock stories.
The goal with the classes is twofold: to help the refugees build a sense of community and to help them secure good, stable jobs.
Sometimes the teachers might not see their students for a while, usually because they have found a job.  But then they will come back by the Welcome Center.
"They're beaming because they're making their own money," Meg said, leaning back into her chair, smiling.  All the ladies nodded along and chimed in with different anecdotes about their former students' success.
As the five of them continued to share stories, picking up where someone left off, Meg mentioned how the teachers often struggle with pronouncing the refugees' names correctly.  But she said once her name was misunderstood too.
"I told them to say it like it rhymes with 'egg,'" she said.  The women began laughing again.  "Yeah, yeah, they thought that was funny too."
"But they won't say anything that…" Diane began.
"…might be disrespectful," Shirley finished.
"They'll go, 'Teacher, teacher," Meg said, gesturing with her hand and scooting to the edge of her chair.
There's no doubt these women collaborate well together, having formed good friendships with one another and each of the students they've taught.  In fact, as the women wrapped up to leave, Ingrid said it best, "Here at the Welcome Center, everything is about community."
It's obvious she's right.
Give to RAIS for the Holidays!
Want to read more stories like this? Check out Clean Feet and New Socks or look on our Blog.  You can also read Executive Director Lisa Aquino's op-ed about Refugee Assistance & Immigration Services in the Anchorage Daily News.