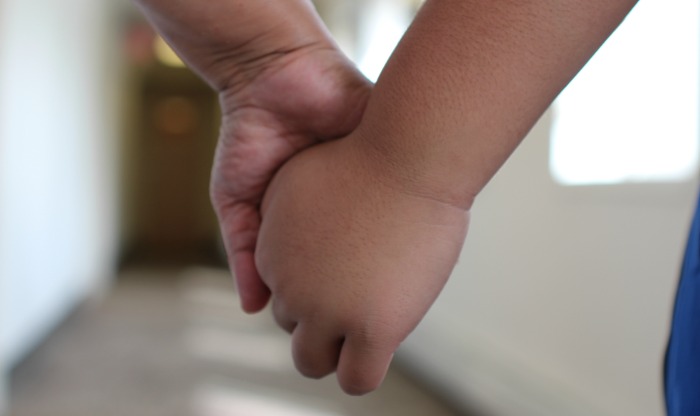 Did you know November 17 is National Adoption Day?
Our Pregnancy Support & Adoption Services program helps children, mothers, fathers, and families – no matter where they are in the foster care or adoption process or whether they are the biological or adoptive families. We offer a loving hand to anyone navigating these difficult decisions.
Our staff finds the right ways to assist the people who reach out to them. Sometimes they are able to help a family stabilize and parent their child. Other times they must comfort and guide the birth-parents who are making the difficult decision to place their child for adoption.  They also help adoptive parents prepare for a child coming home by offering workshops and home studies, a review process required in adoption.  But no matter what role we're in, the children's needs come first.
One of the programs within Pregnancy Support & Adoption Services works with the Office of Children Services and helps transition boys and girls from being in the foster care system to being in their forever home.
Children enter the foster care system through no fault of their own and go through the adoption process for many reasons and at different ages. As of September 2018, there were 3,022 children in foster care in Alaska.  We always strive to meet their unique needs and respect their unique histories.  The mixture of hopefulness and heartache we experience helping them is hard to relay.
In fact, many people don't realize what these children face. To give you an idea, the most recent report from the Adoption and Foster Care Analysis and Reporting System says nationally the average age of a child who is waiting to be adopted is eight years old.  Most children have to wait 21 months to be adopted.  Of course, some children go straight from the delivery room into a foster care or adoptive family, but that's not the norm.  While each child's journey looks different, having trustworthy, caring adults makes all the difference in their outcomes.
Angela, a caseworker, has so many stories to share about helping children find forever homes and locating the amazing adults who have adopted them. Part of Angela's job is to uncover the network of people that the children on her case load already know.  She tries to find family-connections first to see if adoption is a possibility with someone related to the child.
She says she's like "a baseball scout – that the players are all there" and she just helps "get everyone on the right team." Angela often uses social media to make her first inquiry, sending a message via Facebook to a person she thinks may be related to the child.
Not long ago, Angela found a woman online she thought might be the aunt of a teenage boy on her caseload and lived within driving range. This child had been in foster care since he was a toddler.
After Angela did her research, she contacted the woman, who was astounded. She thought her nephew had been adopted years ago.  She wanted to adopt him as soon as he could.  The teenager will be moving in with her on the day before Thanksgiving.
Just like with this boy and his aunt, we're here to help the children and families who are navigating the adoption process. Every action we take is motivated by helping them thrive.  These children are our future.  They are our hope.  Please join with us in celebrating National Adoption Day!