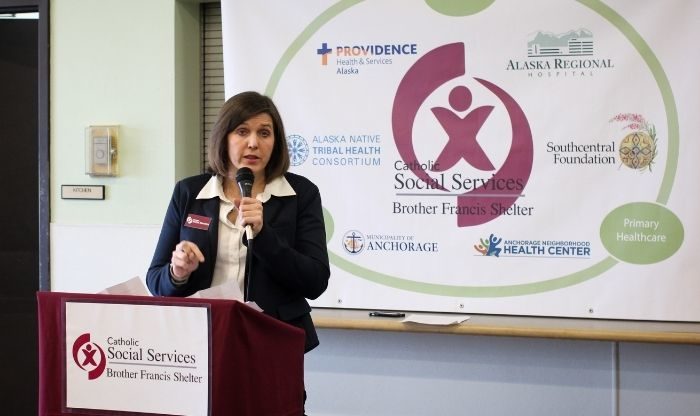 Homelessness is a public health issue. That's why in April 2017 we formed the Healthcare and Homelessness Partnership, a collaboration between Catholic Social Services dedicated partners: Providence Health & Services Alaska , Alaska Native Tribal Health Consortium, Alaska Regional Hospital, Southcentral Foundation , Anchorage Neighborhood Health Center, and the Municipality of Anchorage
With funding and assistance from our partners, we created the Medical Respite and Caring Clinic programs at Brother Francis Shelter, which provide preventative medical care to help guests heal and treat small problems before they become major medical crises.
The Medical Respite program provides a space for the self-care and recuperation that patients discharged from medical facilities would have in their own homes, who otherwise would have been discharged to the street or to an unequipped emergency shelter program. The program provides 24-hour access to a bed in a furnished semi-private room, 3 meals a day, a common area with a television, home healthcare if eligible, and intensive case management services.
The Caring Clinic, staffed and supported by Southcentral Foundation, provides guests at Brother Francis Shelter with access to healthcare on site, treating acute illnesses, wound care, cough/colds/flu, sore throats, and more.
The impact of the Healthcare and Homelessness Partnership has been incredible. By offering preventative care and recovery support to people experiencing homelessness, Brother Francis Shelter has drastically reduced the number of emergency service calls, saving the city of Anchorage roughly $2 million per year.
We are excited about the impact this partnership has had and are incredibly grateful to our partners for offering their expertise, funding, and staff. Together, we are creating innovative solutions to Anchorage's challenges and making our city stronger, healthier, and a place where everyone can thrive.