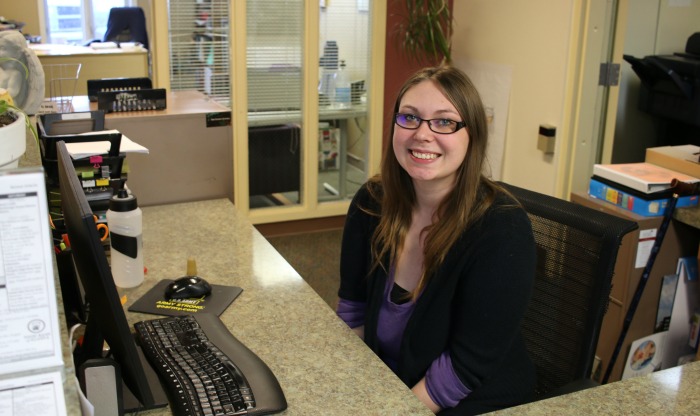 Rachel welcomes everyone who comes in the doors of Catholic Social Services' main location.  If you don't know her name, you should.  You'll definitely know her face.  She's got a big smile and bright eyes.
You can tell Rachel is kind-hearted and humble when you talk to her as she sits behind the front desk in our lobby.  She may gloss over how important her work is, rubbing her hands together and shrugging her shoulders, but you'll quickly realize Rachel has many stories to share.
When pressed, she may talk about giving a giant teddy bear to a little boy waiting with his mommy.  That toy made his — and her — day.  She may also mention sharing suicide prevention flyers with a woman.  A few days later, that lady came back and said that information saved her friend's life.
Rachel's calm, helpful, patient demeanor has changed countless lives since she's been the receptionist here for the last three years.
Even if Rachel is slow to accept credit for what she does, Brigette, our Human Resources Director, is happy to acknowledge all of Rachel's hard work.  "She goes out of her way to help someone.  They could be the 50th person in crisis in one day, and Rachel will act like they're the first, most important one."
Rachel balances the inquiries of everyone who enters our building with her work as Brigette's assistant, going above and beyond her responsibilities.  "If she wasn't so good, I wouldn't have popped up and said so," Brigette says, laughing while Rachel blushes and smiles.
We are so thankful for all of Catholic Social Services amazing staff.  Each and every person here brings a hopeful, unique, and caring perspective — making our clients and each others' lives better.
Learn about Our Seven Programs