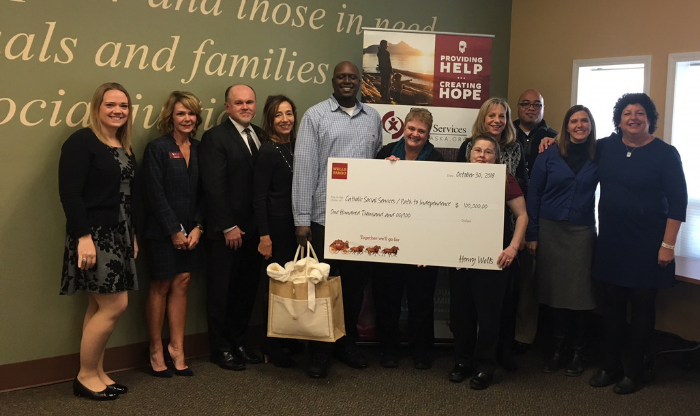 Today, we received $100,000 from Wells Fargo. We are grateful to have been selected as one of the 50 nonprofits Wells Fargo chose as recipients of their Housing Foundation's Priority Markets Program. Because of Wells Fargo's generous support along with the generous support of Weidner Apartment Homes, The Rasmuson Foundation, and Cook Inlet Housing Authority, we are able to quickly house individuals and families experiencing homelessness through our Path to Independence program. Read the full press release here.
This afternoon, we were delighted to hear from Greg Deal, Wells Fargo Alaska Region Bank President. "Since the inception of the program, over 22 funders have come together to support Path to Independence and help our homeless secure sustainable housing," he said. "As we all know, homelessness is a big challenge in Anchorage, and we are proud to stand alongside our partners in this innovative community so we can end homelessness."
Lisa Aquino, Executive Director of Catholic Social Services – Alaska, noted that because of Path to Independence we've already housed seven families in less than a month. Altogether Path to Independence will help to house 40 families. Learn more about Homeless Family Services.
One of our case workers for Path to Independence, Jessie Talivaa, talked about what it was like to house the first person through Path to Independence. Her name is Anna Grace.
"Watching Anna Grace do her walk-through and get the keys to her apartment was one of the coolest things I've gotten to be part of," Jessie said.
"Thanks to them, we are increasing the number of families and individuals we can help house within the next year," Jessie said, concluding his comments. "Their willingness to help our homeless population gives participants like Anna Grace so much hope, a place to live, and the support to become independent."
We couldn't agree more.