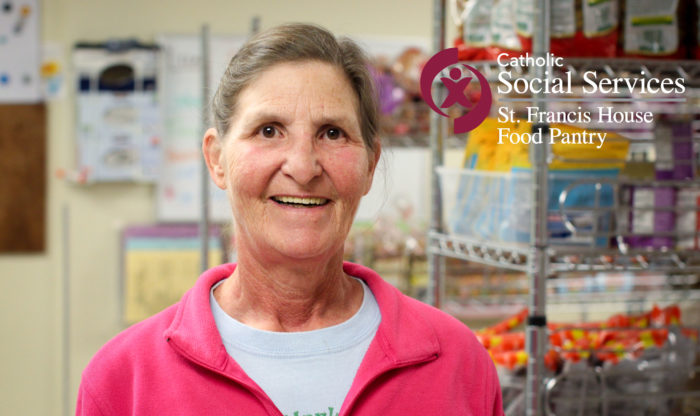 This month we have been highlighting the essential, selfless work that Food Pantry volunteers have been providing since the beginning of the program.
The dedication of St. Francis House Food Pantry volunteers like Pam is invaluable to the operation of the pantry. Pam has donated nearly 3,000 hours to the pantry!!
Pam gained professional experience volunteering at St. Francis House while she was re-training and looking for new work opportunities. But she also gained a sense of purpose, and that's what keeps her volunteering at the Pantry.
Your donation makes a HUGE difference when a family can offset the costs of groceries by using the pantry to keep the power on and ultimately to keep their home.
"Some people are so grateful and make you feel like you've done something great for them on your own. It's so heart-warming," Pam says.
St. Francis House All Star Judy
Judy Christianson is another Pantry all-star. She plants, grows, harvests, and donates cabbages, cucumbers, and greens from her own backyard! This is on top of the thousands of in-kind hours over the years she has given to make the largest Pantry in Alaska run smoothly.
Look at that beautiful fresh lettuce! This year was a generous haul of fresh & nutritious lettuce and kale specially grown in her garden for our clients.
This will help us serve over 100 families we help feed each day.
St. Francis House All Star Karel
This September is Hunger Action Month and we are celebrating your generous contributions. The untiring work of volunteer team members like Karel. She has donated over 2,000 hours to helping families select nutritious food.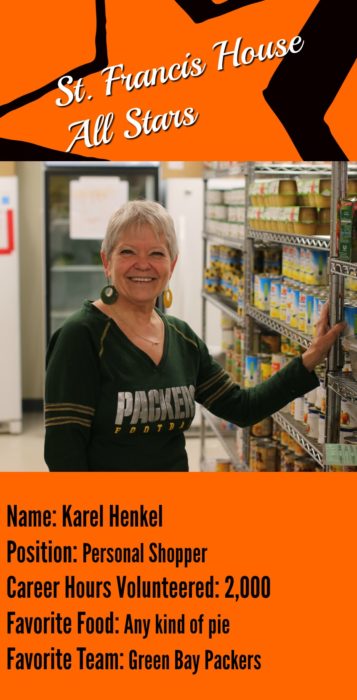 2,000 volunteer hours makes a big difference and you can make a big difference too.
We need your help
This month St. Francis House Food Pantry needs to raise $10,000 to help keep providing fresh, healthy food to families who need it most.
In honor of Pam's 3,000 hour contribution, please consider making a $30 donation to reach this goal. You can make a difference in the lives of Alaskans.
Just $30 provides a nourishing meal for 10 families who visit our food pantry.
St. Francis House Food Pantry is a needed resource for hungry families in Anchorage. When their luck has run out they turn to St. Francis House and generous supporters like you.
This month is important because it's Hunger Action Month nationwide, and we count on this time of year to bring in thousands of pounds of in-kind food and financial donations to feed the over 100 families who need your help everyday.