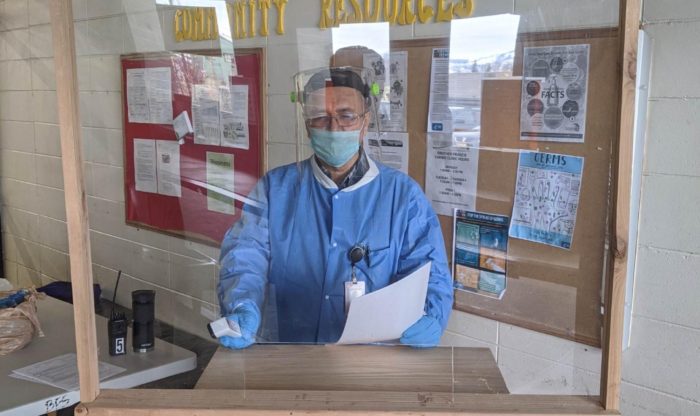 In light of the recent cases among guests at Brother Francis Shelter (BFS) we feel it is important for you to hear from us regarding this news. We care deeply about the health and safety of clients and staff and we will continue to do all we can to keep each and every person safe.
Last week, we were notified by an individual that they had tested positive for COVID-19 and had previously stayed at our shelter. We quickly began working with Anchorage Municipality's Emergency Operations Center (EOC) and conducted COVID-19 testing for all shelter staff and clients. After conducting testing, we have been notified that there are approximately 60 positive cases.
Working with the Municipal EOC, all identified positive cases are moved off-site to a non-congregant shelter that is not operated by Catholic Social Services.
We are keeping all those who have tested positive in our thoughts and prayers. We wish them an easy and speedy recovery and keep them in our hearts.
We also send thoughts and prayers of protection and safety to our hard-working staff at BFS. Staff at BFS and CSS have been doing an incredible job and are doing everything possible to keep our guests and our community safe by working with our wonderful partners and local health officials to follow CDC guidelines. We are so grateful for the hard work, passion, and commitment from our front-line staff at Brother Francis Shelter. They are true heroes, and their work is greatly appreciated. They continue to do all they can to keep each client safe and well as they navigate this challenging situation.
Thank you for your unwavering support through this difficult time. We will continue to keep you informed and do all we can to keep our clients, staff, and community safe and healthy. We hope you will join us in wishing them a fast and easy recovery.
Thank you,
Tricia Eumont Teasley
VP, Development & Strategic Communications
Catholic Social Services | www.cssalaska.org
Office: (907) 222-7355
Cell: (907) 250-8040
tteasely@cssalaska.org