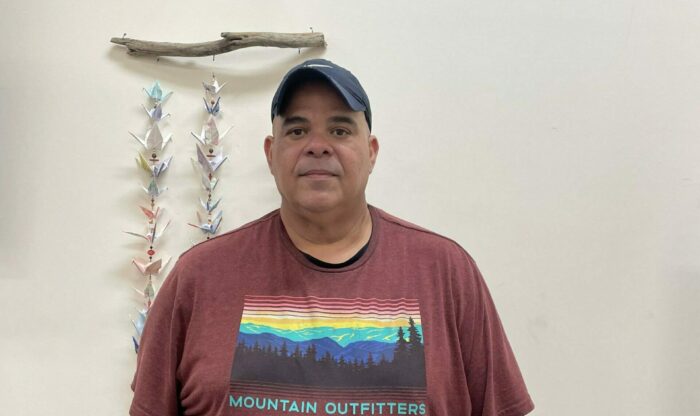 "These people, from the time I came here – they have opened doors for me, they are very nice with me." – Daniel, commenting on his stay at Brother Francis Shelter.
Daniel came to Alaska this spring, hauling a trailer, food service know-how, and plenty of hope. He had completed the last leg of a very long journey, taking 12 days to drive from the Midwest to Alaska, before coming to Anchorage and finding himself without a place to stay. Finally, he heard about Brother Francis Shelter from a few friends and reached out to request services.
He has found a place for himself at the shelter, finding lots of joy in helping serve food at mealtimes and quickly making friends. He talks about the other guests at BFS, saying "They have a lot of respect for me." He recounts a story of a time one man gave him a jacket when he needed one, as a way to thank him for helping with meal times.
Daniel takes pride in his ability to make friends, even when the odds are against him. He first came to the U.S. with a job selling merchandise, traveling to different cities, and becoming a quick study on how to navigate U.S. transportation systems. During this time he reports being very lonely because of the language barrier – "I was going crazy – two weeks no friends, no nothing." One day, he went to the store and bought a lot of candy, and put it in his pocket. He started handing out candy to people on the street and people working at local stores. He did this for one week – the next week when he walked down the street everyone called him 'candyman.' "So then everyone was looking for me, and just like that I started learning English," He said.
As passionate as Daniel is about making friends, he is also passionate about his love for food and cooking for others. His ultimate dream is to own a food truck business – something he studied for when he was living in the lower 48 with his family. When asked about what makes him passionate to own a food truck, he relays: "When I was in school, everyone wanted to fight with me, because I'm big. My Grandmother taught me to fight back." But Alan said he didn't like to fight and because of that, he did not have a lot of friends in school. He found solace in cooking and took every chance he could to cook during the day and when he got home from school. He said, "I like to cook, so when I grew up – that's my dream, to own a food truck."
Daniel is determined to make his dream a reality soon: He has a business partner in Anchorage he is working with to get a food truck business off the ground. He detailed many ideas about how to make his new business profitable and sustainable. Thanks to you, Brother Francis Shelter was there for Daniel when he needed emergency shelter. Daniel has since moved on from BFS with plans to work on his business and continue to do what he loves – feeding his community!