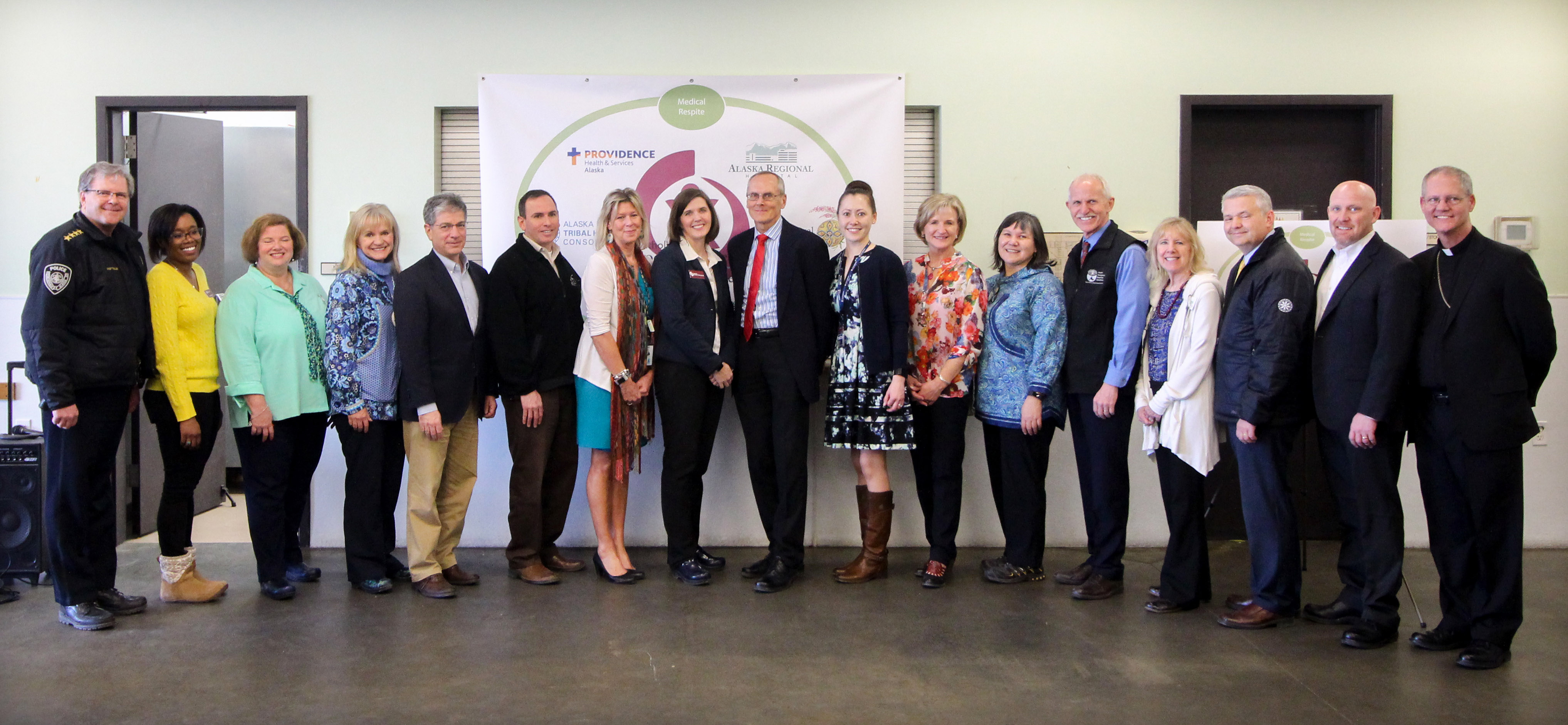 Healthcare and Homelessness Partnership
Anchorage — Catholic Social Services honors the groundbreaking partnership with the major Anchorage hospitals along with community and city partners who have come together to work on ending homelessness. A new space for Medical Respite and renovations to the Caring Clinic at Brother Francis Shelter will address healthcare among those in great need and the rising service costs for all Alaskans.
Healthcare & Homelessness Partnership:
Alaska Native Tribal Health Consortium
Alaska Regional Hospital
Providence Health & Services Alaska
Southcentral Foundation
Anchorage Neighborhood Health Center
Municipality of Anchorage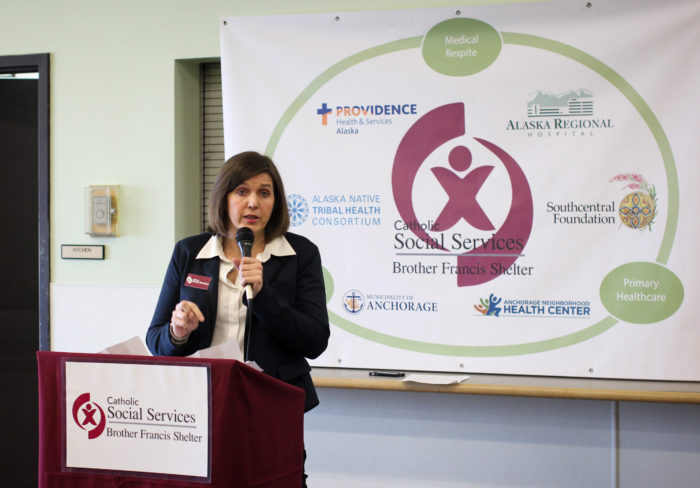 "Over a year ago our board adopted the strategic focus of preventing and ending homelessness in our community, and this is a critical piece if we're going to end homelessness in our community. There is still more work to do, but a strong partnership like this gives us a step forward in solving the problem because everyone is at the table," says Lisa Aquino, CSS Executive Director.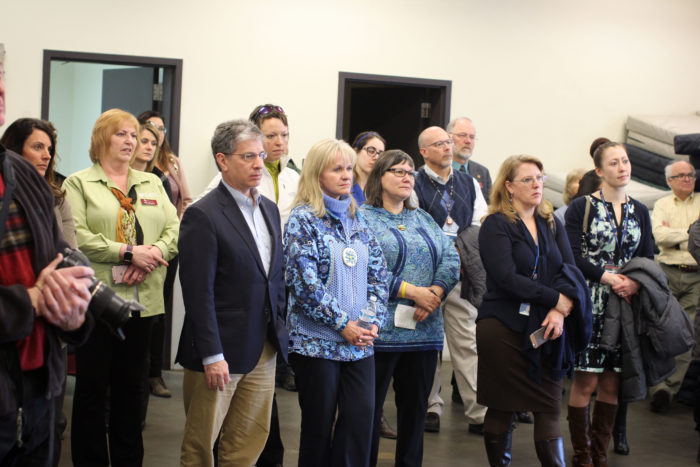 Initial data from our pilot Medical Respite program shows that approximately 80% of individuals involved in the program did not return to homelessness after staying in respite. The program will offer 10 beds for medically fragile individuals to recuperate from an acute illness or injury. Providence Health & Services Alaska will provide skilled home care services to BFS patient-guests.
The Caring Clinic for basic medical care has been run by volunteers at Brother Francis Shelter for over 30 years, with medical professionals providing basic healthcare needs for guests on their own time. Southcentral Foundation is working in partnership with CSS to expand hours at the Clinic and support a healthcare provider regularly for all clients at Brother Francis Shelter.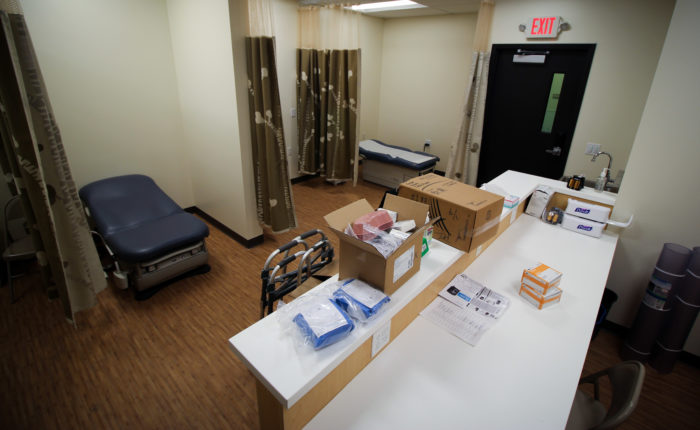 Finally, the expanded Caring Clinic would make it easier and more accessible for guests at Brother Francis Shelter to seek medical treatment, but for appointments that must be conducted at the hospital—like x-rays and other exams—we are looking to have transportation available.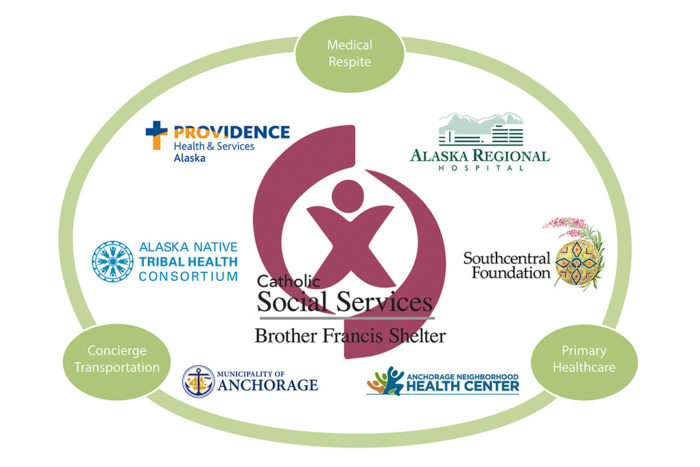 The design, construction, and high-grade renovations for both the Medical Respite program and the Caring Clinic were provided at no cost to Brother Francis Shelter. "The volume of work that went into the clinic space and the respite program workspace is beyond anything expected, and we are grateful for the tremendous amount of time and resources that went into this project," says Lisa Aquino.
Brother Francis Shelter Medical Respite
Providence Health & Services Alaska
Davis Constructors & Engineers, Inc.
Architects Alaska
Cook Inlet Housing Authority
Other generous donors
Alcan Electrical & Engineering, Inc.
Allen and Petersen
CDW-G
Capital Office
Commercial Contractors, Inc.
General Mechanical, Inc.
Mechanical Construction & Consulting, Inc.
RSA Engineering, Inc.
Summit Windows and Doors, Inc.
West Coast Paper
Brother Francis Shelter Caring Clinic
Southcentral Foundation
Neeser Construction, Inc.
Spark Design, LLC
Cook Inlet Housing Authority
Other generous donors
Alaska Air Balancing Company
Alaska Architectural Lighting, Inc.
Alaskan Industries, Inc.
Alaska Quality Fire Protection
Alpine Concrete Cutting & Coring
General Mechanical, Inc.
Gensco, Inc.
GTS Interior Supply
Inlet Painting & Drywall, Inc.
K-Factor Insulation
Last Frontier Mechanical, LLC
MegaWatt Electric, LLC
Municipality Of Anchorage, Wellness On Wheels
RBA Engineers, Inc.
Schneider Structural Engineers
Stusser Electric Company
Catholic Social Services' Brother Francis Shelter (established 1982) provides temporary, emergency shelter for men and women, an evening meal, use of shower and laundry facilities, case management services, advocacy, job readiness, and referrals for employment, permanent housing, mental health issues, and treatment options for alcohol and substance abuse. During FY 2016, Brother Francis Shelter provided 96,498 nights of stay and served 77,636 dinners to 3,688 men and women without a home. Among guests using comprehensive case management services, 39% moved into permanent housing.
This project is possible thanks to the support from Alaskans like you. This partnership would not have come to fruition without a supportive community that prioritizes addressing homelessness in Alaska.