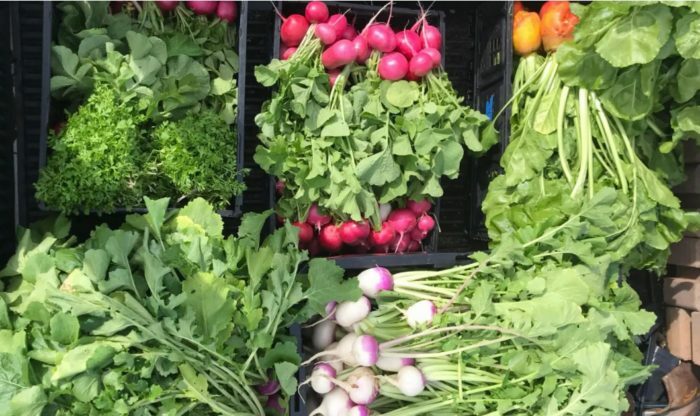 Molly Cornish-Cordy | Catholic Charities USA | August 2021
Gardening isn't typically the first thing that comes to mind when thinking of Alaska. The state is home to three mountain ranges, a cold climate, and long winters. Anchorage, the largest city in the state, is usually in negative temperatures most of the winter. The winters can be long and cold, but Alaskan residents hold on to the hope of summer, long days of light and spending time outside.
The long Alaskan summer days bring new life to the land and new opportunities to the staff and clients at Refugee Assistance and Immigration Services (RAIS) at Catholic Social Services Alaska – located in Anchorage.
Gardening with a purpose
RAIS has been welcoming refugees to Alaska since 2003, providing a bridge for refugees from their former life experiences to the new skills required for success in the United States. One program that exemplifies this is Fresh International Gardens (FIG), a refugee-run co-op started in 2007. In FIG, RAIS clients have the opportunity to develop English-language skills, gain small business knowledge, and earn supplemental income by growing and selling produce.
100% of the earnings from FIG are paid out directly to FIG gardeners, and many of the gardeners go on to start their own businesses.
Keenan Plate, coordinator of RAIS' refugee agriculture program, oversees the FIG program. He has seen the benefits of farming with refugee clients firsthand. "Our program uses agriculture as an avenue to promote health and well-being," Keenan said. "Agriculture is universal — everyone has a relation to food. That's why gardening is a great activity to build connections and learn."
FIG farmer, Dusabe, has been working at the co-op for a year now and sees the benefits. She's originally from Congo and says that the farm has helped with her English. Prior to coming to Alaska, Dusabe lived in Idaho where she worked in packaging and shipping. She is glad to have come to Alaska, thanks to FIG: "Alaska is better than Idaho because my job is better. I feel really happy because [gardening] makes me remember Africa. Digging, planting potatoes, things like that."
COVID-19
When the pandemic slammed Anchorage in the spring of 2020, FIG had to pivot. Many of the farmers are elderly or use public transportation. Buses shut down temporarily, so many farmers couldn't get to the farm. In addition, so many people needed food; more and more people were experiencing hunger due to the loss of income and employment.
"COVID created so many challenges across the community, but in adversity people create great opportunity," said Lisa Aquino, CEO for Catholic Social Services of Alaska. "The creative work and diligence of our refugee farmers and the commitment and compassion of our community shone through."
FIG's sales were anticipated to decrease, but the program and the farmers wanted to help.
Together, the FIG team created a fund called "Grow Local, Give Local" to which donors could contribute. The funds raised would buy fresh produce from FIG farmers, supporting the local economy and refugee community. That food would then go to St. Francis House Food Pantry, the Catholic Social Services program providing groceries to households in need, which meant the families could get fresh produce.
Grow local, give local
The fundraiser was a success. Donors recognized the importance of supporting the farmers at FIG and hungry neighbors here in Anchorage. "Grow Local, Give Local" was a way they could do both.
With the support of many generous donors, the fund raised enough money to purchase 2,300 pounds of food from FIG for St. Francis House Food Pantry.
Claire Lubke, director of the pantry, was overwhelmed with the response and the amount of fresh produce received through the fund. "This gave us the opportunity to have a consistent supply of vegetables. We had fresh produce every day of the summer because of it," said Lubke.
Giving continues
The impact made through "Grow Local, Give Local" was phenomenal, but FIG farmers didn't stop there. The younger farmers who could come to the garden during the pandemic always made sure to take produce to the elderly farmers at their homes. They made sure everyone had enough nutritious food.
Investing in the local community
The "Grow Local, Give Local" fund is back this summer. FIG farmers have returned to the gardens where they are planting and harvesting radishes, potatoes, beets, and much more.
The farmers produce will eventually make its way to homes throughout Anchorage. Much of it will be through St. Francis House Food Pantry, made possible by the generous donors of "Grow Local, Give Local."
As for Dusabe, she plans to keep working at FIG with her new baby and new friends.
Keenan hopes that Dusabe will continue to be involved after she completes the program, like many others have: "Watching people come through the program who are now leaders and teachers in the community is really something."
FIG is building the leaders of tomorrow, helping refugees thrive, and giving strong foundations to hungry neighbors all at the same time with the help of donors, staff, and the refugee community. That's a success story you just can't "beet."
Find out more about FIG by visiting cssalaska.org/fig