Shellene can always find time for her kids, and especially her kids' education.
Shellene is a single mother of three kids—a kindergartner, 4th grader, and a 6th grader. She works full-time at a local hospital and finds support with her kids from her mother and brother.
After making her way down to East High School with two of her three children, the HUGSS (Helping Us Give School Supplies) event has prepared her kids for the upcoming school year with a backpack, scissors, a ruler, pencils, paper,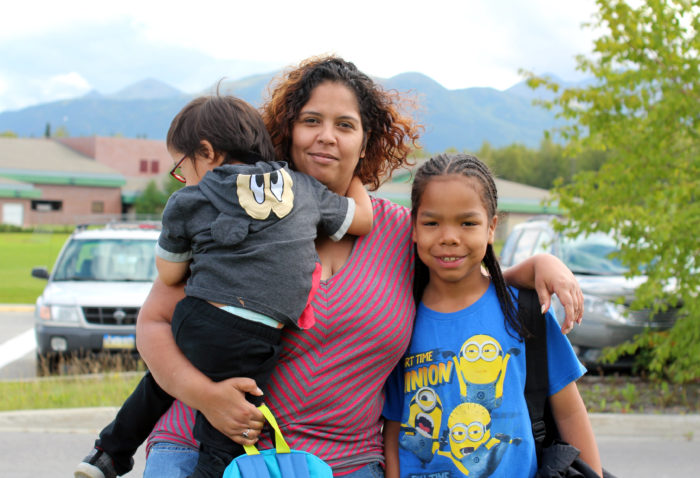 a binder and the necessary supplies to be successful in the classroom. Shellene says the supplies for her kids help balance paying for rent, utilities, food, and the multiple other demands that come with living in Anchorage.
"It makes life a little bit easier. One less thing to worry about," she says.
Her sixth grade son says his summer has been a bit long and is ready to start the new year, and misses hanging out with his friends.
Her youngest son is starting kindergarten and likes to play and explore his world.
"We have to keep our eyes on him at all times," Shallene says.
The school supplies for Shellene's kids—and many families like hers—will make an impact on her sons' lives, allowing them to pursue a proper education which every child deserves.
The HUGSS event—which took place on Tuesday, August 16—was made possible this year thanks to organizers Lutheran Social Services of Alaska, and many community partners including Anchorage School District, The Salvation Army Alaska Division, 3M, KTUU, Color Art Printing, Fireweed Cleaners, GCI, First National Bank Alaska, Fred Meyer, Providence Health & Services Alaska, Jewel Lake Parish, Wells Fargo, and dedicated individuals here at Catholic Social Services.
If you are interesting in getting involved with HUGSS next year contact our Community Engagement Manager.
Thank you to the many partnering agencies and dedicated volunteers for making this event possible and for preparing Anchorage kids for a successful school year.