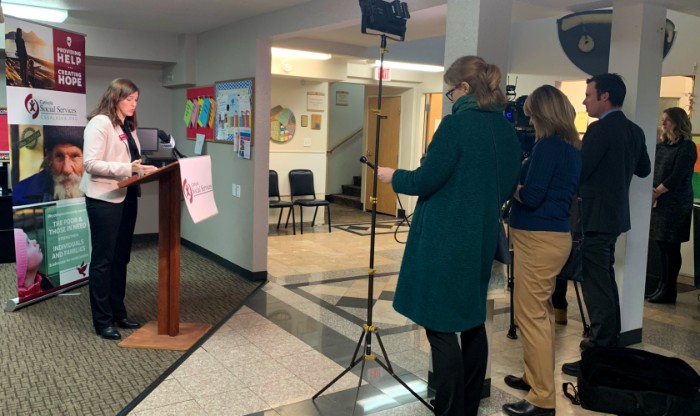 Funds support families moving from homelessness to housing
Anchorage — Catholic Social Services is pleased to announce a $150,000 grant from ConocoPhillips Alaska for the Community Housing Project. The partnership program successfully supports families moving from homelessness to housing.
Research shows women with young children are one of the fastest growing homeless populations across the nation. "Early childhood research has shown that homelessness is the second most traumatic event that can happen to a child, after losing a parent. That trauma has life-long impacts on physical and mental health," said Lisa Aquino, CEO of Catholic Social Services. "ConocoPhillips Alaska's investment will play a large part in eliminating that trauma."
The ConocoPhillips Alaska grant will extend rapid rehousing services to families in need. Specifically, it will help quickly move 10 households and more than 30 people to permanent stability by supporting each family's housing, income stability, and social and emotional wellbeing.
"None of these families and individuals want to be homeless. Most of them are working when something unexpected and unfortunate happens to them," said Joe Marushack, President of ConocoPhillips Alaska. "This housing program focuses on getting the family or individual into housing first, so they can turn their energy and attention toward getting back on their feet. Alaska needs more successful programs like this."
The Community Housing Project has housed 326 individuals in 93 households to date. Of those who received short-term support, nearly 80 percent remained housed at six monthsand nearly 70 percent remained housed after 12 months.
The Community Housing Project provides short-term support to families experiencing homelessness to help them get back on a pathway of self-sufficiency. It's a partnership between Catholic Social Services, RurAL CAP, Salvation Army and United Way. Since its inception in 2016, the program has seen great success.
Conoco Phillips Alaska has been supporting Catholic Social Services' efforts to end homelessness for more than 40 years, providing more than $1.5 million in grants focusing on Brother Francis Shelter and Clare House since 1984.