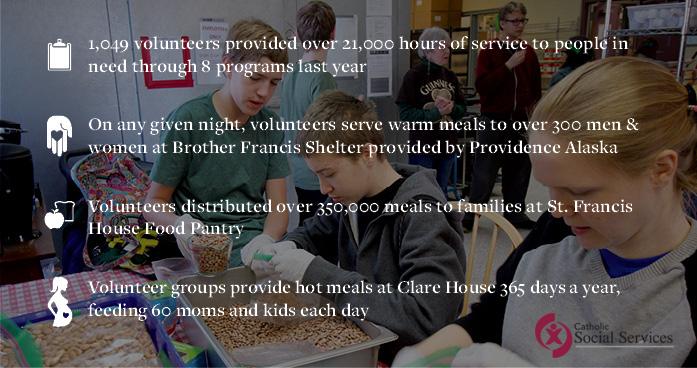 A Safety Net for Alaskans in Need
Partners and supporters like you make it possible for more than 23,000 people to receive services from Catholic Social Services every year.
Churches and businesses, clubs and neighbors give their time, treasure and talent every day to help those in need in their community through Catholic Social Services. Thank you all for making Catholic Social Services so strong.
Please take a moment to consider how you can join us by sharing your gifts or talents with those in need.
There are so many examples of partnership to call out and thank.
Did you know that groups from the community donate dinner to the moms and kids at Clare House every day of the year? Since it started 35 years ago, volunteer groups from churches and clubs all over town have brought dinner to Clare House. We estimate a donation of more than $250,000 every year.
Providence Health & Services Alaska makes and delivers dinner to our guests at Brother Francis Shelter every night and volunteers in the community come down to serve the meal.
St. Francis House Food Pantry runs thanks to an army of volunteers. Some volunteers have worked with us for decades as personal shoppers—providing support to families in need to make sure they have enough to eat.
Regular volunteers bring in food to St. Francis House—special thanks to the Knights of Columbus from parishes all over town. They bring food, raise funds, and take care of their neighbors at the pantry. Every Lent for the past few years, Saint Elizabeth Ann Seton Parish selects St. Francis House as their special project. The food pantry sees loads of fresh food thanks to their efforts.
Parishes across town have a special place in their heart for those we serve at Catholic Social Services. St. Patrick's Parish started a Foot Clinic at Brother Francis Shelter stemming from Lent which continues to this day—volunteers wash and care for the feet of the men and women experiencing homelessness. What a tribute to our faith and to those in the community in need.
Families from Holy Family Cathedral, St. Andrew's, St. Andrew Kim, Holy Cross and St. Benedict parishes all give to those in need in Anchorage.
Catholic Social Services is the service arm of our Church and you all flex those muscles to help our brothers and sisters in the community. We are so grateful.