Kaulani Napoleon—an aspiring Eagle Scout—made one of the largest donations to RAIS this year.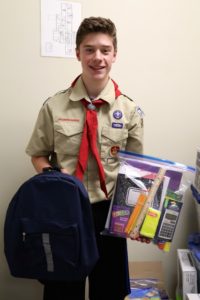 Kaulani collected hundreds of school supply kits sorted specifically for different age groups and donated them to RAIS (Refugee Assistance and Immigration Services) at Catholic Social Services yesterday.
The project took Kaulani a total of 3 months to conceive and organize. Collecting the donations only took a total of 3 weeks through the support of his community.
Kaulani, from Eagle River, saw support from not only here in Alaska, but all over the United States. Family and friends from several states donated money and items for the RAIS program.
Kaulani himself committed over 20 hours to the project.
80 individuals volunteered over 150 service hours total by collecting hundreds of donations for refugee school children and youth.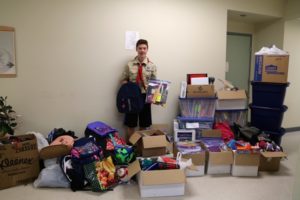 The future Eagle Scout's takeaway from the project was the community's response
to the donation drive. He was very glad and overwhelmed to see his community participate and be so eager to help the refugee population here in Alaska—and so were we!
The RAIS program would like to extend a huge thank you to everyone involved in this donation drive, especially Kaulani
.
The difference makers of the world are those who intentionally stand up and care for others around them. Kaulani and his community have proved to be change makers.
Thank you for all your hard work and dedication to support refugees in your community, Kaulani!