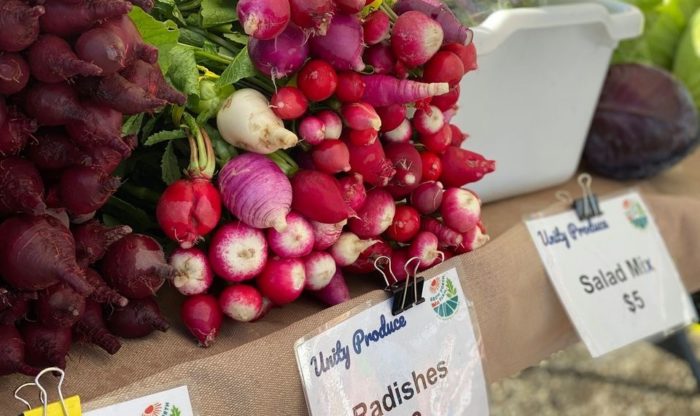 Winter is coming to Grow North Farm. The garden beds are tucked in under a layer of burlap sacks, the paths are freshly wood-chipped and prepared for the coming frosts, and the last vegetables of the season are quickly selling out at the farm stand. After a whirlwind of a growing season, it feels like the farm is letting out a deep breath.
For the entirety of the spring and summer, the farm has been bustling with activity. Grow North farmers have worked incredibly hard this growing season to truly become community-minded and business savvy entrepreneurs. They have sold produce daily at the Grow North farmstand and branched out across the city to sell at weekend markets in Muldoon, Spenard, and South Anchorage. They have sold additional produce wholesale to organizations such as Seeds of Change and Fire Island Bakery.
This season has also heralded many new and successful ventures. Grow North Farm was proud to be able to offer season-long subscriptions to Community Supported Agriculture, with produce supplied by Grow North Farm's predecessor Fresh International Gardens, as well as Weekly Box subscriptions, with produce provided by Grow North farmers. Thank you to our intrepid subscribers who helped make this first season a great success!
We were also able to provide our freshly grown vegetables to the St. Francis House Food Pantry with the generous support of a host of community donors. In early Spring, we launched the "Grow Local, Give Local" fundraising campaign that allowed us to buy produce from farmers to then donate to the food pantry. We raised $7,300 and delivered over 2,000 lbs of produce. Thank you to all who supported the campaign!
Several farmers have sold value-added goods and hot food to-go at Grow North Farm including samosas, tamales, Somali cookies, and jams. These events provided an outdoor gathering space in which friends of the farm were able to connect in a safe and socially distanced way.
The farm would not have been possible without the support of our vast support network in the Anchorage community: customers, volunteers, donors, and supporters. Also, a big shoutout to our partners at Anchorage Community Land Trust! Their leadership and vision for Grow North Farm is irreplaceable.
Thank you, everyone! We are excited to continue growing with you and we'll see you next spring!