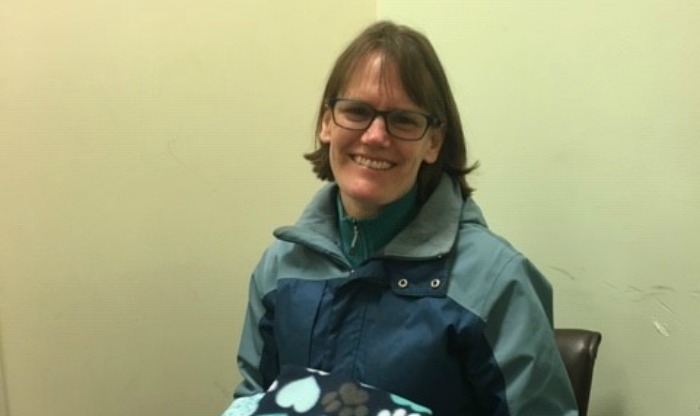 Today Angela and her friend Clo came by Brother Francis Shelter.  They were delivering 56 neck gators.
Angela had started making neck gators for her parents, but she wasn't able to finish before her father passed away.  The material sat there until her birthday this year.  To celebrate, Angela decided to do 50 acts of kindness in honor of turning 50.  The fleece for her father's neck gator inspired her.
Making the neck gators was an easy way to honor her dad and help others.  Plus, they're practical.  "Ninety percent of heat comes from your head and neck," Angela said.  "These could make a real difference."  Check out Brother Francis Shelter's wish list!
Angela had picked out fabrics to supplement what she had and found others that she loved – like being blue or having paw prints.  Another friend pitched in fabric too.  Then about ten ladies helped Angela cut, sew, turn, and close the neck gators.  Their help made finishing possible.  Angela didn't keep close track, but she estimates they had to have spent at least 30 hours making them.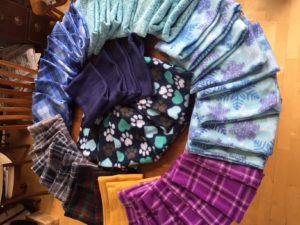 "It took longer than I'd hoped," she said.  "But the results are worth it."  Angela gestured to the neck gators, and Clo nodded along.
Even though the snow is melting, our shelter remains at capacity, and the cold weather is still lingering.  These 56 neck gators will go quickly among our many clients.
"Our hope is that we see people out in Anchorage wearing them," Clo said, smiling.
"And that other people are inspired to help too," replied Angela.