Permanent stability is more than providing basic needs. A focus on social and emotional wellbeing through programs like family mentorship provides clients the tools and resources to thrive in their new home.
In FY22, RAIS helped to resettle 276 new arrivals – the majority of which arrived from the Ukraine or Afghanistan.
Thanks to your dedicated support, many individuals and families have resettled in Alaska following the crisis in Ukraine and Afghanistan and have been warmly welcomed.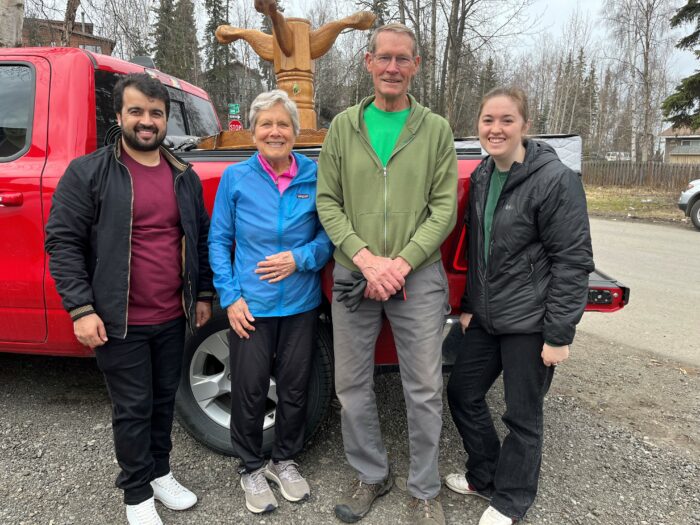 Since 2009, Ingrid and Ken Everson have been volunteering with the RAIS program. After serving a tour overseas with the Peace Corp. Ingrid shared, "It opened up my mind to the life situations of so many people that were different from mine and I wanted to do something about it". Ingrid has been serving RAIS clients by teaching English job-readiness classes and she has seen how having an Alaskan friend makes a difference in adjusting to their new home. The Everson's have offered support through family mentorship to multiple families over the years by attending medical appointments, taking children on Alaskan adventures, and offering transportation. By building this network of community and relationships, it allows new arrivals ease of transition and the social and emotional support to thrive.
Ken offered his support by moving and setting up homes for the influx of new arrivals in FY 22. Providing a comfortable environment promotes emotional well-being for our clients to adjust to their new lives.
In FY22, the RAIS employment team helped 64 people find 88 new jobs. The father of the Afghan family the Everson's mentored joined one of those 64 people.
Ken shared, "We are quite good friends with our Afghan family" and Ingrid chimed in, "The children refer to me as their 'Alaskan grandmother,'" and she holds that title with honor. Thank you for your support, which enables us to continue addressing RAIS clients' long-term needs by building resilience through friendship and connection.