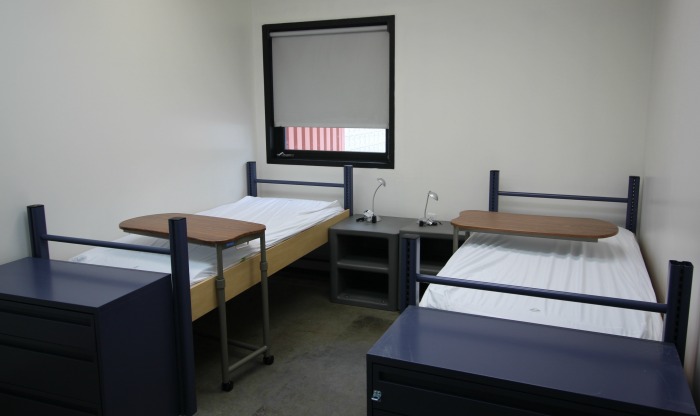 Medical Respite is a wing in Brother Francis Shelter that has five rooms.  Each room stays full.  Between April 1 and July 31, 2018, occupancy in Medical Respite was 94%.  The small percent of vacancy reflects the time required to clean the room for the next guest and transition the guests there.
Each room has two beds, for a total of ten beds in Medical Respite.  People are paired so they can heal together and encourage one another.  It improves both their recovery and their outlook.
In the spring of 2018, Dana, 59, and Nichole, 36, became roommates – and best friends.
At first, Dana was quiet.  She called herself "a cocooner."  But over a few days together, Nichole's friendly persistence got Dana talking.  They lived together in Medical Respite for about two months.   Now they say they know all of each other's secrets.
Nichole laughs, looking at Dana out of the side of her eye, and says, "My little flower is blooming."
Dana rolls her eyes, then she chuckles too.
Nichole healed and moved from Medical Respite to her own apartment this summer, thanks to rapid rehousing funds. Dana is getting stronger each day and preparing to move into her own place too.
You will be able to read more of Dana's and Nichole's stories in our Faces of Hope Newsletter.
Medical Respite works well for medically fragile people experiencing homelessness, just like Dana and Nichole. It gives them the space to convalesce, return to health, and get back on their own two feet.  We are grateful for the support, partnerships, and donations that make Medical Respite possible! You can join the effort to support Medical Respite too by becoming a monthly donor or making a one-time contribution.
Want to read more stories like Nichole's? Check out Phillip Found Hope or look on our Blog.  You can also read press coverage about Medical Respite on the Anchorage Daily News.