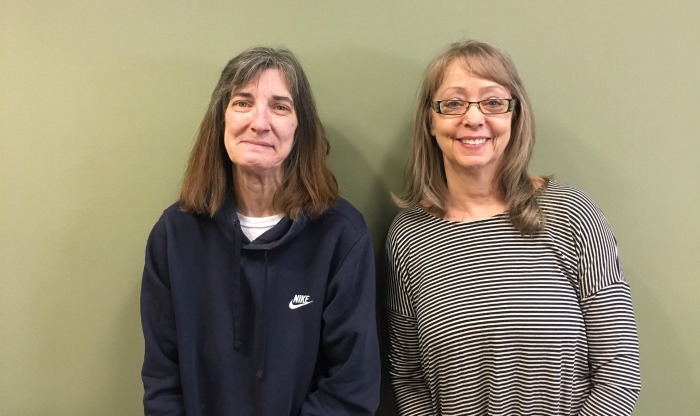 Terry works at Catholic Social Services for Homeless Family Services.  She is a caseworker who oversees people receiving assistance due to chronic homelessness associated with a documented disability.  She met Debbie almost 12 years ago at one of our partnering agencies.  At that time, Terry helped Debbie move off the streets, into her first home, and stay there.
Back then, some housing assistance programs operated differently than they do now.  Once Debbie was stabilized, Terry was assigned other clients, and the two women lost touch.  Debbie faced challenges to keep her housing, but despite it all she remained homed.
A decade later, after Terry had taken a job here, she saw Debbie's name on the RISE client list, which is now part of NeighborWorks and administered by Catholic Social Services.
"I said, 'Hey, I know Debbie!'" Terry laughed.  "I want her!"  Debbie beamed and then tucked her head.
Currently, Terry has 17 clients, including Debbie.  She encourages them all to be self-sufficient, but offers them a helping hand and gentle reminders, when they need it.  Help end homelessness!
"Yeah, you're straight to the point there, girlfriend!" Debbie said, laughing again.
"Any time I've told you something you didn't want to hear," Terry retorted, smiling and laughing too.
But Terry's voice is gentle, and Debbie's response makes it clear she likes the joking banter they share.
With Terry's support, Debbie can talk through decisions she needs to make, get to her medical appointments, and build good friendships in her apartment complex.
"Some are senior citizens," Debbie said, "and I help them take out their trash and do their dishes."
Debbie loves to ride her bike too, but the recent ice has been making that harder.  So lately she's taken to going on walks.  Terry urges her to find ways to live a health life-style, and clearly Debbie's listening.
"Terry has been instrumental in me learning how to live my life," Debbie said.  "The taught me how to be positive, to think positively."
These kinds of successes, like the ones Terry witnesses with Debbie, is what Homeless Family Services is all about.  It connects caseworkers with more than 500 clients and gives them the support and network they need to thrive, making their and their families' lives – and all Anchorage – better.