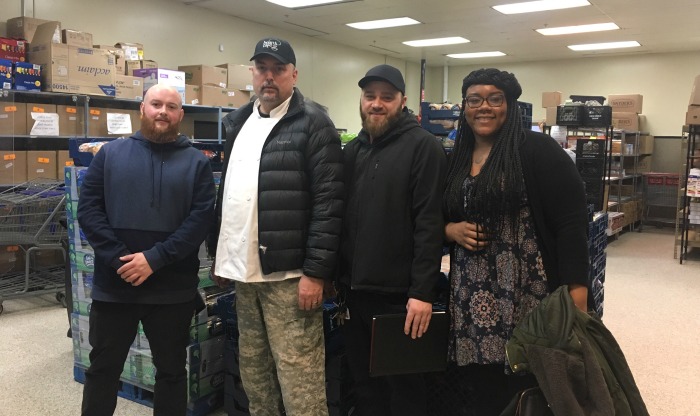 Standing in the hallway outside of St. Francis House Food Pantry, one of the program assistants, Logan, talked with three employees from Bean's Cafe – Josh, Justina, and Scott. They had come here to do a tour of our food pantry and warehouse.
"We're not going to turn anyone away if they need food," Logan said as part of his introduction to Catholic Social Services.
Josh, Justina, and Scott nodded. They understand because Bean's Cafe also feeds anyone who comes in the doors of their organization.
While Catholic Social Services – and our programs like St. Francis House Food Pantry and Brother Francis Shelter – works closely with Bean's Cafe, we're actually two unique organizations helping Alaskans experiencing homelessness and food insecurity in our community. Many of our guests are their guests too, meaning together we serve hundreds of people daily.
Recently, Costco gave St. Francis House Food Pantry hundreds of pounds of fresh broccoli. We passed it out to our clients and still had more. We wanted to make sure this highly nutritious food was shared with others in the community. So the Program Director, Chris Kukay, loaded up Catholic Social Services' 32-foot-long truck with over 675 pounds of broccoli and took it to Bean's Cafe. They could cook it and share it immediately. While Chris was there, Bean's Cafe gave him bins full of individual canned goods that they'd received from donors, which are better used in a food pantry.  Will you donate to Catholic Social Services today?
While these exchanges aren't new or unique, according to Chris, they are essential for all programs. "Our collaboration with organizations in Anchorage makes sure food gets quickly on the tables of those who need it, no matter where they go for help." Chris has made a point for St. Francis House Food Pantry staff to learn what other organizations' talents are for addressing hunger. "That way, when extra food becomes available," Chris said, "we know who can use it and where to take it."
During the tour with Bean's Cafe, Logan led the group through the warehouse and stopped in front of one of our refrigerators. "Extra stuff, like this?" He gestured at some carts of bread and then opened the refrigerator, waving toward more broccoli. "We partner with Bean's, AWAIC, the Soup Kitchen, anyone who can take and distribute perishable food we can't use," Logan said, referencing places like Abused Women's Aid in Crisis and the Downtown Hope Center, often referred to as the Soup Kitchen.
"It makes a big difference to get some bread or something to throw in the freezer, doesn't it?" Josh from Bean's Cafe agreed.
Here in Anchorage, we're all in the fight together to end homelessness and hunger. St. Francis House Food Pantry has Food Bank appointments three times a week. We pick up bread on Tuesdays and Thursdays from New Sagaya, and Greatland Distributors donates prepackaged baked goods every couple of weeks as well. Costco donates all sorts of items, every day except Fridays, and we supplement our pantry with purchases from them too. Plus, like Logan said, we do exchanges with Bean's Cafe, AWAIC, and the Downtown Hope Center whenever we can.
Maybe you'd think with all these supporters and partners, we'd be meeting all the hunger needs in Anchorage. But the need is great, and with your help we can do more.