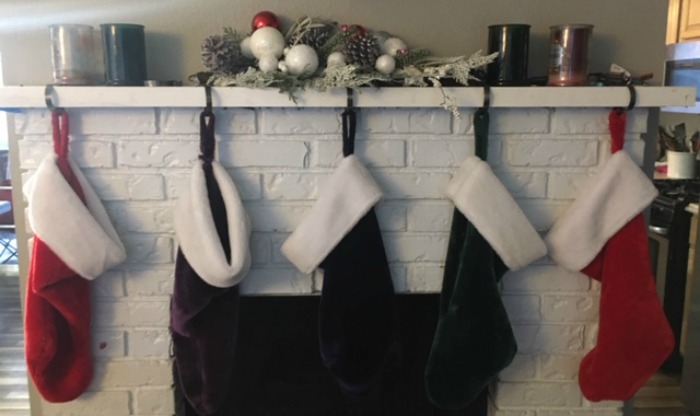 Terry is the mom of five adopted children, ages eleven to five. Actually, there are two five-year-old boys – twins – and one of them has a disability. You can tell she adores her kids. Crayon self-portraits are taped up on the sliding door, which opens to their back porch, and pages from their homework are held by magnets on the refrigerator.
Terry got hooked up with Family Disability Services almost six years ago, when her twins were infants. At first, our caseworkers helped her find a special car seat and high chair for her son.
She chews on her lip as she recalls many of the ways Catholic Social Services has been there for her family through the years. "Anything we needed, they got," she says, matter of fact. "'You need any shoes?' they asked me. 'Yeah, we need shoes.' Few days later, ten pair of shoes showed up at my house for back-to-school."
Family Disability Services, one of our oldest programs, offers a support system to families who have members with disabilities. Their trained providers can help those with disabilities become more independent and help parents and caregivers receive respite.
Terry leans back into her couch, drapes her arm on the armrest, and crosses her legs. The kids are in school, and she's getting a rare, quiet morning at home. Their cat bats an ornament across the living room, and Terry watches him, releasing a small chuckle.
One of the things Family Disability Services does for its clients, like Terry, is help their families get sponsored for Helping Holidays, an event that allows members of the community to provide Christmas gifts to children. This year, Terry's family was chosen, and Nermina, one of our caseworkers, called Terry and asked what her children wanted for Christmas.
"We have an Elf of the Shelf," Terry says, gesturing to her mantel, which has stockings and garland on it, but no Elf. "Well, he's often there, but he's gone missing," she said, shaking her head. "Anyhow, I had everybody whisper to the Elf what they wanted so he could go back and tell Santa. That's how Nermina got our list." Sponsor a family for Helping Holidays too!
You can see Terry's gratitude radiating from her face, and she has so many examples of what Family Disability Services has helped her family with – whether shoes for school and gifts for Christmas or YMCA memberships and financing for a house through NeighborWorks.
Because of Family Disability Services, Terry can better manage the logistics of getting her son his essential medical care while meeting the needs of her other children. It's a lot to juggle, but with their help, she's doing it.
"Catholic Social Services always had a resource for me. Always a place to go. Always a hand to offer," Terry says.
Will you help restore hope to families like Terry's this Christmas by donating today?