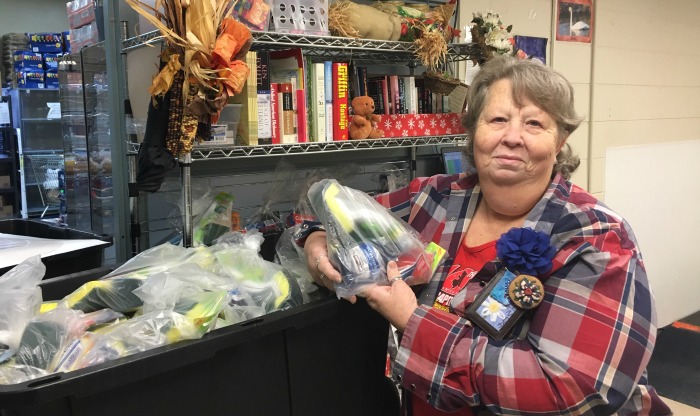 Talking to our volunteer Linda is one of the most fun things you can do here at Catholic Social Services – other than helping her keep the St. Francis House Food Pantry running, which is what she does.
Linda has been a dedicated volunteer for the last four years, coming in Monday through Thursday from 9:00 a.m. until the last client leaves, usually around 2:00 p.m.  Our Food Pantry has about 80 shoppers each day, taking home food for themselves and their families.  Many of these clients know Linda, and those who do love her and even stop her around town to say, "Hi!"
"Once I was in the grocery store, and I had a guy chase me down…" Linda said, laughing, with her southern drawl accentuating each word.  The way she trailed off created suspense.  "And he was in a scooter!"
People who come in the doors of Catholic Social Services' main location notice when Linda's here – or if she misses any days.
"Folks 'round here love me and I don't do anything specific, 'cept talk to 'em."  She shrugged.
She knows what it's like to be a client in our Food Pantry because she was one.  Years ago, Linda arrived in Anchorage with nothing.  She had needed to get out of an abusive relationship, and Linda's friend in Alaska had urged her to pack up her clothes and move across the country.
"I got on the first plane in my life," she recounted.  "I was scared to death."
Just a few days later, Linda came over to Catholic Social Services.  A woman gave her a tote and instructed Linda to follow her.  "She began filling it with pots, silverware, and all the stuff I needed to start house with," she said.  You can help make sure we're well stocked for clients like Linda.
After that, Linda figured, since we'd helped her, it was her turn to help us.  And helped us she has.
She remembers when she asked a staff member how she could volunteer.  They handed her an application, which she filled out immediately and returned.
"Be here tomorrow at 9:00," they said.
The next day, Linda became a personal shopper in our Food Pantry.  A month later, she learned how to stock our warehouse.  Then she started checking clients in at the front desk.  Now, Linda can do anything in St. Francis House.
The biggest thing Linda does, though, is give clients hope.  You can tell that after just talking with her a few minutes.  Your conversation will be peppered with her saying "hello" to those walking by.
After one such interruption, Linda said, "I like to joke with clients.  And if they need a hug, I give 'em one."
In fact, Linda stopped talking about her volunteer experiences when a father cradling his sleeping young daughter walked in.  Linda was off, calling to him in her drawl, "You got my baby!"  They all stood there, chatting and smiling.
People sure do love Linda, and volunteers like her are the reason we're able to help so many people in Anchorage.
Become a Volunteer like Linda!
Want to read more stories like Linda's? Check out Instinctual Kindness or look on our Blog.