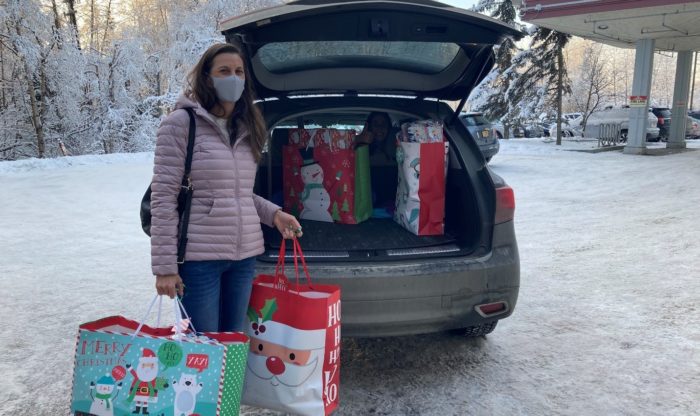 Helping Holidays is a rich tradition that has taken place for over a decade, connecting the Anchorage community to families who need gifts during the Holiday Season. Helping Holidays pairs donors with clients from Catholic Social Services' programs. During this season of gift giving, Helping Holidays helps to fill the financial gaps our neighbors face by relieving the stress of Christmas gifts.
Each November clients fill out wish lists of items they'd like for Christmas and members of the Anchorage community sign up to make their Christmas a little brighter. By mid-December all the wish lists are sent out to the donors, who go shopping for their assigned family. This year, despite such uncertain times, the community pulled together and gave 49 families Christmas presents and gift cards.
The Helping Holidays program strongly encourages gift cards to give the clients the freedom and choice to pick out gifts. Kelly Mullin, case manager for Flourishing Families, shared that one of her clients made a simple wish list—coats, boots and gloves, "She didn't even ask for toys!" The donor of this family purchased gift cards so that the mother could choose what size, color, and type of warm clothes she wanted to buy for her children. Kelly said when she handed her the gift cards the mother tried to hold herself together but was shaking, with tears in her eyes.
Another case manager on the Flourishing Families team, Shannon Sanderson, said she felt like Santa all week. She showed up to a newly housed client's home with packages and the children went wild with excitement. Another case manager, Heather Resz remarked after connecting toys to a family "I just love that we are paid to be kind to people. Kindness and paperwork – that's my whole job!"
The Helping Holidays program would not be possible without our incredibly giving donors. This is a big task for our donors: signing up, organizing with friends, coworkers or parishioners, shopping for clients, wrapping the gifts, and dropping them off. We appreciate the time and effort this program takes—it was amazing to meet so many dedicated people.
One donor decided that instead of getting Christmas gifts from his children and grandchildren, he'd rather direct the gifts to a family in need. His entire family signed up for Helping Holidays to give on their father's behalf—a daughter in France even shipped over a gift card! Another donor said that her family had been apart of this tradition for years—since she was a kid. Now that she is an adult, she wanted to sponsor a family by herself.
There was an overwhelming amount of Christmas packages, decorations, and gift cards showing up daily for two weeks at CSS's door. Case managers would fill their trunks to the brim with these bundles. On behalf of the families who received donations Catholic Social Services wants to thank and recognize the generosity, thoughtfulness and support the Anchorage community. The donors and volunteers of CSS are truly gifts to the rest of the community. We are so grateful for such an amazing community that takes care of each other.