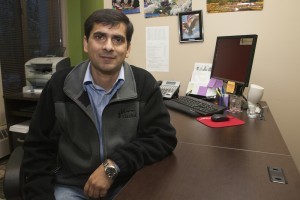 Who better to offer refugee resources than someone who needed them himself?
Facing imprisonment or death because of religious persecution, Hari and his family, along with thousands of other ethnic Nepalis, fled Bhutan twenty-four years ago.
After eighteen years living in Nepal as a refugee, Hari was sent to Anchorage by the International Organization for Migration to pursue a new life in 2009.
Arriving with few personal belongings and adapting to a new place with a foreign culture was daunting. But Hari quickly learned how to navigate the bus system, learn English, and seek employment. He is now a U.S. citizen and works for Catholic Social Services. Helping other refugees adjust to new lives in the United States is his passion and expertise.
Access Refugee Resources
Through Refugee Assistance & Immigration Services (RAIS), case management and employment services help refugees get and maintain employment while providing a bridge between their former lives and a bright future. By the end of their first year in Alaska, 86 percent of refugee families no longer rely on public assistance.
Who We Serve
A refugee has fled his or her country because of well-founded fear of persecution for reasons based on political opinion, race, religion, nationality or membership in a particular social group. Learn more about qualifying for RAIS services.
Program Spotlight
Thanks to a generous Wells Fargo Economic Opportunity Grant, RAIS offered job readiness classes for 150 clients that resulted in 111 hires. The resulting job training programs will continue to serve additional clients for years to come.
How to Help Refugees
In addition to providing refugee resources, Catholic Social Services offers members of our community meaningful ways to help refugees. Through the Refugee Assistance & Immigration Services program, you can:
Hire a refugee to work for your business
Volunteer on refugee-related projects
Supporting RAIS changes lives, both yours and Anchorage's newest residents. Join us in assisting refugees as they rebuild their lives and careers in Alaska.