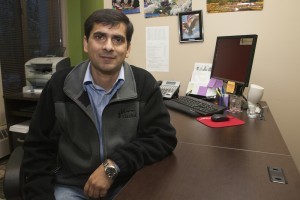 Facing imprisonment or death because of religious persecution, Hari and his family along with thousands of other ethnic Nepalis fled Bhutan twenty-four years ago.
After eighteen years living in Nepal as a refugee, Hari was sent to Anchorage by the International Organization for Migration to pursue a new life in 2009.
Coming with few personal belongings and having to adapt to a new place with a foreign culture was daunting. But Hari quickly learned how to navigate the bus system, learn English, and seek employment. He is now a U.S. citizen and works for Catholic Social Services. Helping other refugees adjust to new lives in the United States is his passion and expertise.
Case management and employment services help refugees get and maintain employment while providing a bridge between their former lives and their bright future. By the end of their first year in Alaska, 86 percent of refugee families no longer rely on public assistance.
For ways to support the Refugee Assistance & Immigration Services program click here.