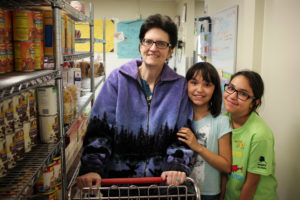 No one deserves to be hungry. At Catholic Social Services, hunger relief is a priority. More than 125,000 Alaskans struggle with hunger, including more than 1 in 4 children who may not know where their next meal is coming from.  There are several hunger relief programs throughout the state and in Anchorage, including Catholic Social Services' St. Francis House Food Pantry.
St. Francis House Food Pantry

Providing an emergency supply of food to those in need, St. Francis House Food Pantry operates one of the largest food pantries in the state.  St. Francis House serves 60-100 families a day, providing them with hunger relief.
"I always bring my girls to the pantry. I know they will actually eat it if they pick it out. One loves green beans and the other loves mac & cheese."- Marie, single mother of two.
Many of our clients face tough choices like the choice between feeding their family or paying rent, or between buying groceries or paying for needed medications. The pantry offers that extra support needed to fill these gaps and help families make it through the month.
Relieving hunger is just one step on the pathway to independence and self-sufficiency. Our goal, transitioning families to permanent stability, takes the work of several of our programs.
St. Francis House Food Pantry is a lifeline for many Alaskans in need. Your support will help ease the burden that those in need face when they do not have enough to eat.
Be a champion for hunger relief.